Timetable for the Spring Semester 2022-23
The timetable for the Spring Semester of the Academic Year 2022-2023 is shown below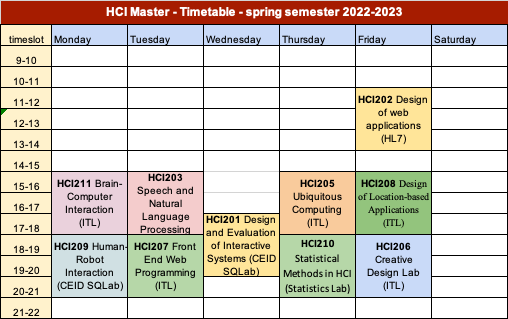 Legend to the lecture halls:
ITL: Interaction Technologies Lab seminar room (ECE)
HL7: Lecture hall HL7 (ECE)
SQLab: Software Quality Lab (CEID)
Statistics Lab: (ECE)
---
Academic Calendar
The lectures for the graduate courses will start on Tuesday February 28th, 2023. The course HCI202 Design of Web Applications will start on Friday 24th of February 2023.
The end of the Easter Academic Semester is on June 1st 2023.
---
Orientation Event
On Wednesday, February 22nd, 2023 at 17:00 at the Assembly Hall of the Department of Electrical and Computer Engineering we will have the orientation event for this semester, where the tutoring staff will present their courses and discuss with students the content of the 2nd semester of the program.
---